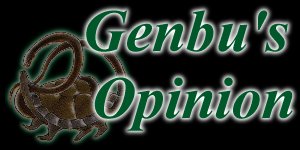 Suzaku Seishi Unofficial Homepage
http://mypage.goplay.com/suzaku_seishi/home.html
through the eyes of Genbu
Overall
As the popularity of Fushigi Yuugi grows exponentially, the number of pages we Gods can look at and eat grows as well. (Keep them coming! I'm off my diet for this month! Plus, Byakko is pretty ticked at me for always being late for these reviews. I'm not sure how much longer I can keep from being turtle soup.)
Anyway, onto our topic, Suzaku Seishi Unofficial Homepage
General & Information
In general, this site looks like your typical Fushigi Yuugi fan site. The layout is simple with a few images. I am not sure what the load time on these images is because I am on an ethernet connection right now. *bwahaha* Being a student God is good... sometimes. The site was made with an online webpage maker rather than hand-coded HTML or an application like Frontpage or Composer. This isn't a bad thing though - not everyone can be an HTML god (and the other gods can attest the the fact that I'm not) - although it does limit the design potential of the site. It could be because it was made by an online HTML maker that the navigatiion for the site is a little bit odd. The pages are listed at the bottom of the main site, and are labeled Page x and the site owner has a legend for which pages go to who. In addition to this, the english for the site seems a little off, but that can be easily fixed.
Design-wise (see above comments as well,) the pages within are okay, but definately not spectacular. Nuriko's page causes quite a bit of eyestrain. The information was correct but the color scheme could have been chosen better.
Informationwise, the Chichiri page disturbed me a bit because of the lack of spoiler space (or warning) about his past.
But the text of the Mitsukake page commits a HUGE sin. The text of the page was taken from The Shrine to the Almighty Chicken of Doom! webpage by Kristi and Priya. (Their trademark running commentary is still in the text of the page.) While the owner has a link back to the CoD (although it is the wrong URL now) on a seperate Seiryuu page, there is no link - or mention - of the fact that the text was from a different site. This is a BIG NO NO.
On a scale of 1 to 10, Suzaku Seishi Unoffical Homepage ranked at 3 for me. There is a lot of improvement needed here, and I think that with the enthusiasm that the owner has for this page, it can easily be done. It's a nice testimonial for the Suzaku Seishi, but still it needs help. Go for it!
To see more pages reviewed by Genbu, go here
To return to the Four Gods Review page, go here