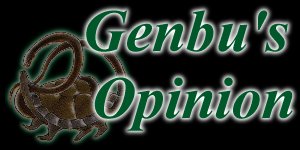 Jenn's Fushigi Yuugi Page
http://www.geocities.com/Tokyo/Palace/4796/FY.html
through the eyes of Genbu
This is a first of sorts. Qwerty212@aol.com asked us to review her page for her, and so, here's my view on it.
This page is fairly run-of-the-mill as far as most Fushigi Yuugi web pages are going nowadays. Character profiles, image gallery...
Character Profiles
Now, I like the character profiles on this page. After reading so many profiles that seem to be carbon copies of each other, it's nice to visit a page that has their own character profiles. (I also detect a very distinct like for Tasuki...) Although there is a fairly moderate spoiler for Tasuki on the Suzaku Profile page, so that's one thing I've got a problem with. However, that is fairly minor and easily corrected.
Image Gallery (and Images on this page in general...)
One thing I am eternally grateful for (and my poor modem is eternally grateful as well,) is the warning that Jenn put about her image gallery. Yes. It is a HUGE gallery. VERY HUGE. (I tried loading this gallery on an ethernet connection as well and it still took forever.)
I have several things to say about this image gallery: Thumbnails (lack thereof,) and DIRECT LINKS. First, I'll start in on the advantages of thumbnails, and then start in on my favorite rant.
Thumbnails on image galleries are so helpful. They keep the user trying to use the gallery from going insane, for the most part. This would be a great image gallery if it used thumbnails! Thankfully, Jenn has already expressed interest in making thumbnails, and all I have to say is "Do it! Do it!" It will definately keep visitors coming. A very good program that will make thumbnails for you is ThumbsPlus.
My other major concern for this page is the fact that most, if not all, images are directly linked from other sites. This includes both the Image Gallery as well as the character profile pages.
NO! Do not do this! This page happens to be on Geocities which allows you 11 M of space, there is no excuse for this! I won't rant on this further, but... please, don't do this!
While the mini-FAQ on the page is a very Good Idea in my opinion, (I would personally like to see more added to it,) it includes something I absolutely do not codone under any circumstances whatsoever.... Please, please, please, PLEASE remember that Fushigi Yuugi is now a commercial release. Fan subs/dubs of it should no longer be in distributed by fansub distros. Fushigi Yuugi will be released on November 24 in sub/dub format by Pioneer so please support it by buying the commercial release.
Overall rating? I'd give this page a 5 out of 10. This page certainly has a promising start, especially regarding it's originality, and can be greatly improved upon.
To see more pages reviewed by Genbu, go here
To return to the Four Gods Review page, go here