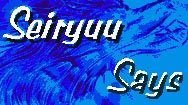 Well. The easiest way to sum up what I thought of Forever Fushigi Yuugi is that "My eyes are burning!"
Yep. But, since I'm generally a nice God (as long as you can stand the Miko breath), I'll start with the good points.
Character Information : Instead of just giving manga stats, and other common data, the webmaster includes personal thoughts on most of the characters. It makes the page more original, and less like every other Fushigi Yuugi webpage out there.
Some nice images, and the pictures of the characters matched who the characters were - always a good sign
All the characters information was spelled with the accepted spellings
i.e Miaka not Miyaka
Good coverage on all the characters - at least the names of most of the major characters are mentioned, there is even shichiseishi information on shichiseishi that didn't appear in the TV series
Offers MIDIs
Offers episode synopses for episodes 1-6, and a listing of the names of the episodes
Offers CD and lyric information
All around coverage of the TV series, not extensive, but hits most of the major points
---
If the page has all that neat stuff - why on Earth do I say it makes my eyes burn? That's easy - this is why (in random order).
The images, although nice, are all taken from other webpages - with no credit given (I seriously doubt that Taila used her own snappy), I could personally point to most of the images and tell you who really screencapped them.
Dear God - genesis.simplenet.com is probably dying from the abuse Taila puts in! I feel sorry for the person who has to pay the bills, because the images she uses are sitting on her server - they are sitting on the simplenet server. Bad Taila, bad.
Usually when you join a webring, you put your name, rather than leaving the html code as "YOUR NAME HERE" on the webring code
Imbeded mp3 and wav files? Especially of those size? Big no-no.
The backrounds are pretty, yes, I'll admit that. The backrounds also make the text hard to read, and in some cases are spoilers!
A very slow-loading page, extremely heavy on the images. I tested this page using my good internet connection, and my bad internet connection. The good connection is a Pentium 166, with 32 megabytes of RAM and a 33.6K modem. Forever Fushigi Yuugi took nearly two minutes to load. My bad internet connection is a 486SX, 8 megabytes of RAM, and a 14.4K modem. With my bad connection, it didn't matter which page I tried, because every single page crashed my computer.
On Chichiri's character page his real name is listed as "Kouji" - I may be Seiryuu, but I take an interest in knowing the opposition. Obviously Taila doesn't. Probably she was too busy copying html from other websites to realize that it was being copied wrong. Chichiri's real name is "Houjun", as revealed in the second half of the manga.
Speaking of manga, what happened to it? Did the manga coverage on the website get stolen by Tenkou? Oh wait - there is no manga coverage! Talia wouldn't even know who Tenkou was! I can understand not having a lot of information on the manga (not many people may have it), but I can't understand at least just mentioning once that we all appeared in a manga series before becoming an anime
I mentioned in the "pro" section that there was good coverage of characters - except for one. I couldn't find one mention of my shichiseishi, Ashitare. Ashitare did good work for me - he deserves mention.
If I weren't a God, I could probably be stoned for this - but I detest thumbnails. They slow page loading. You don't have a choice whether or not to look at the image. Generally they aren't laid out very well. All of these apply to Forever Fushigi Yuugi
Soi's page, Amiboshi's page, Tomo's page, and Miboshi's page - I believe I've seen this before! Yes, I the All-Knowing, Omnipotent God have. At The Seiryuu Shrine. Maybe Suzaku would know which page was on the internet first?
So where is the information on Suboshi? All I see is a picture and a 2.9MG wav file. Plus, the backround ... Well, I'm pretty sure that it is Kaika. Even for a God - telling those two apart is hard - I suppose it is even harder for puny humans like this Taila
As for the Tomo and Miboshi pages (amoungst others), the backround image is so loud that it drowns out the text. The only reason I know these pages seem stolen is because I clicked on "view source".
The Remaining characters page also looks awfully familiar ... I wonder why?
Broken links - both to pictures, and to other pages. Fer Genbu's sake - there is even broken links to her own pages
The Image Gallery - I mentioned this above - the images are linked directly to genesis.simplenet.com - bad webmaster. Bad.
The Music page - all of these MIDIs were created by someone else. And no credit was given. My supreme psychic powers tell me that no permission was asked, either.
Do I even need to mention the CD and Lyrics page? Don't make me. Please. I beg you.
Episode Listing - Can I just make a comment here? If you are going to steal from well-known webpages (like the Happy Hyper Elfies - which this page is), at least do it intelligently, and change a few things around so that it's not as obvious. Fer Suzaku's sake, this is ridiculous.
The backround on this page? Defintely inappropriate. Spoiler, for one thing, and not suitable for younger web surfers. Link to it - don't use it as a backround!
The picture at the top of the page? Spoiler. De - fine - ite spoiler.
---
Looking at Forever Fushigi Yuugi so that I could review it can even my, a GOD, a headache. The layout was terrible. Taila obviously has little concept of html coding. She also obviously never looked at her own site. The images clash with each other, and most importantly of all, with the text.
From a beginners point of view - this might be a good site. But not from a God's point of view. The imformation and images were taken off of other sites. Gods generally don't like stealing, and that is just what Taila does. When credit is not given where it is due, what else do you call it? "Unoriginal"? Even though that caption applies, that is not what this webpage is. It is an abomination to the prescense of Fushigi Yuugi on the internet. No wonder Ryan Matthews in his "Last Exit Before Toll" column was so disparaging of Fushigi Yuugi websites. Sites like Forever Fushigi Yuugi must have been what he was looking at.
---
RATING
Rating is a 1:
I think you've made me blind! (Terrible)
Rating is a 2:
Where is the aspirin? (Bad)
Rating is a 3:
Nothing good, nothing bad (Average)
Rating is a 4:
Interesting, veeery interesting! (Good)
Rating is a 5:
Almost looks good enough to eat! (Terrific)