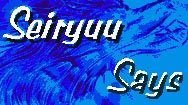 Blue Lotus: Fushigi Yuugi
Webmaster: Hakomae Setsuma
Well. That was an experience. I am certainly impressed. These just keep getting worse and worse everytime I look at them. So, maybe I'm being harsh. But I'm a Divine Dragon, I can be harsh if I want to. So, I'll stop editorializing and get to the point.
Some original thought
Most basic character information given
Quick loading, except for the image galleries
Nice pictures
CD information
lyric translations
credited translations
not credited information taken from Tasuki No Miko
Editorialized - this is normally not bad, but when the comments are something like this - Miaka's page: "Maybe that's why my friend nicknamed me Miaka ..." - that kind of commentary is unnessecary, and if gives Fushigi Yuugi websites a bad name ("WAI! Tamahome-san is so kawaii!")
The accepted spelling of Chichiri's real name is "Houjun", not "Houjin"
broken picture links on the Chichiri and Mitsukake pages
For My Sake - N-A-K-A-G-O! NOT "NAGAKO"!
Tomo's description overall annoyed me
Some broken links to lyric translations
2 broken "Single Shot" pictures, 1 broken "Group Shot" picturing
Various spelling and grammer errors ("seduced" not "suduced")
Fake "thumbnails" on the image gallery, which slows down the loading of the page (When I say "fake," I mean "that each picture is the real picture just rezised - so basically you are loading 20 50K pictures" - to quote Byakko's comprehensible explanation)
Basically, since I am in a bad mood, I'm not going to give my opinion on this page. Overall, it annoys me. However, that could just be because that damn Suzaku no Miko spoiled my plans again ...
---
RATING
Rating is a 1:
I think you've made me blind! (Terrible)
Rating is a 2:
Where is the aspirin? (Bad)
Rating is a 3:
Nothing good, nothing bad (Average)
Rating is a 4:
Interesting, veeery interesting! (Good)
Rating is a 5:
Almost looks good enough to eat! (Terrific)