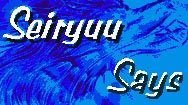 The best way to sum up Fushigi Yuugi Hotohori Shrine is to say that what it has is good. But there isn't much.
Because I like to be nice (once I've had my dinner), I'll start with the good points.
Nice layout: The page design is easy on the eyes, and all of the text and images work together, and not against each other.
HTML: Clean! No clashing images, text color and backround color work toegether, ALT tags on all the images!
Information: Relatively complete information on Hotohori, manga stats basically
Small listing of other Hotohori pages
Credits other people
Not many images actually on the pages, but has a small listing of images galleries
Quick loading, and didn't on either of my computers
Link to join the Hotohori Mailing List
Original poem about Hotohori
Nice cosplay images
---
With all those good things, why I am so ambivilant about the page?
The information on the page is devoted solely to Hotohori, no other characters or information shows up on the page
The information on Hotohori is only manga stats, almost no original thoughts on him
On the Hotohori Images links page, there is a link to the Treehouse of the Happy Hyper Elfies. The page no longer exists. Also the link to "Hotohori No Miko's Images" is broken also.
The date listed for this page being last updated is "June 4, 1997" - defintely is about time for an update
---
Looking at this page, I was disappointed. Maxi Rose as a good grasp of html coding and webpage design. But I wish she would do more with it. There is not nearly enough information on the page to suit me. I wish she would explore other characters, or even go more in depth about Hotohori. My Seiryuu shichiseishi can be left out, I can handle that. As long as what it there is good, original, and comprehensive.
Fushigi Yuugi Hotohori Shrine is a good webpage, for what it is. An one character shrine.
---
RATING
Rating is a 1:
I think you've made me blind! (Terrible)
Rating is a 2:
Where is the aspirin? (Bad)
Rating is a 3:
Nothing good, nothing bad (Average)
Rating is a 4:
Interesting, veeery interesting! (Good)
Rating is a 5:
Almost looks good enough to eat! (Terrific)
Stlye: 4, good design, I approve.
Originality: 3, the poem is original, and the cosplay pictures are original, but the information is the same reguritated information you find everywhere.
Content:2, not really much content, could be improved with more original ideas and thoughts on Hotohori, and perhaps information on other characters, or maybe how Hotohori interacts with certain people - the ideas are limitless!
HTML Coding: 3, easy on the eyes, nice layout, but has a few broken links that need to be fixed
Load Time: 4, extremely quick loading, regardless of what type of internet connection you have
Courtesy: 3, credited others well
Overall: Taking the average from these catagories: 3

An average job. Good work so far, but could use some improvment. I'd say it's ripe for a barbeque!